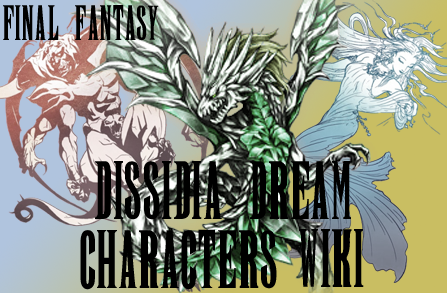 Welcome to the Dissidia Dream Characters Wiki
Edit
Bored of your average Dissidia play roster of characters? Too full of suspense for a next Dissidia? Need a good place for that dusty old fan made moveset?
Then come on in to the Dissidia Dream Characters Fan Creation Wiki, where your dream Dissidia Character can be made to your own likings!
Document your latest Dissidia Fan Derivative Work creation! Post it up for all of the world to see and find! Show your friends and celebrate your appreciation for characters of other series of video games, animation, and many forms of entertainment!
We're always welcome to host your Dream Dissidia Characters, here at the Dissidia Dream Characters Wiki!
Want to find or check for a particular set.
Dissidia Dream Characters started in the late fall of 2009, in the Blackjack forum sections of the Final Fantasy Wikia - here.
Eventually expanding upon a few, then to dozens of fan made Dissidia movesets and profiles, it was a nice and fun place to come up with different spin off movesets, and fan made original movesets for characters of different series from not only Final Fantasy, but to other Square originated titles like Kingdom Hearts, Live-A-Live, Vagrant Story, and Bahamut Lagoon, and such series like Megaman, Phantasy Star, Mario, Zelda, and Kirby, and even to manga, anime, comics, and even to completely original made character movesets with personally created characters.
Eventually, the founders of the DDC came upon a small hiatus, and after a few months of thinking, they decided to host up a completely devoted fanon wiki to Dissidia based characters for the video game community and the interested to indulge in today.
Need Help?
Edit
Activity Feed
Edit
Community content is available under
CC-BY-SA
unless otherwise noted.