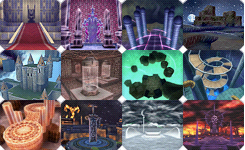 Every Final Fantasy is represented by Two Stages.
A Main stage which is usually larger or complex and has an Ω (Omega) version with additional features. The Majority are based on the Areas where Final Bosses are fought in the original games.
And a secondary stage which is usually smaller but with unique features or structure. These are mostly based off of important locations within their original games.
All Stages have a 'Brave Pool' which is added to combatants if they manage to 'Brave Break' their opponent or perform and EX or Assist Break. Most Stage's Pools are static and will slowly recover once emptied, but Ω Stages often have additional criteria effecting their Brave Pool.
Original Stages (Dissidia)
Edit
All stages from the original Dissidia are Main Stages.
Old Chaos Shrine (FF1)
Edit
Pandemonium (FF2)
Edit
World of Darkness (FF3)
Edit
Lunar Subterrane (FF4)
Edit
The Rift (FF5)
Edit
Kefka's Tower (FF6)
Edit
Planet's Core (FF7)
Edit
Ultimecia's Castle (FF8)
Edit
Crystal World (FF9)
Edit
Dream's End (FF10)
Edit
Order's Sanctuary (FFD – Cosmos)
Edit
Edge of Madness (FFD – Chaos)
Edit
Dissidia 012 Duodecim Stages
Edit
The first Secondary stages appeared in Duodecim.
Hell's Throne (FF2 - Secondary)
Edit
Crystal Tower (FF3 - Secondary)
Edit
Phantom Train (FF6 - Secondary)
Edit
Prima Vista (FF9 - Secondary)
Edit
Empyreal Paradox (FF11 - Main)
Edit
Sky Fortress Bahamut (FF12 - Main)
Edit
Orphan's Cradle (FF13 - Main)
Edit