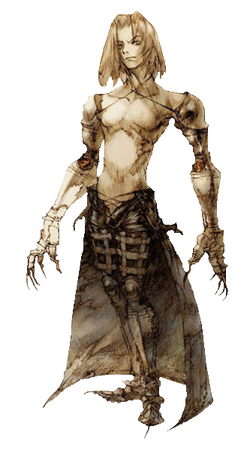 Sydney Losstarot was the established antagonist in
Vagrant Story
. He was the leader of the Müllenkamp cult, a self-professed prophet who preached about human weaknesses and the end of the world. His hands and legs are prosthetics crafted from eldritch metal, the hands complete with clawed fingers.
His role in the Dissidian Wars was as a Warrior on the side of Chaos whose role was to kill those who fled the battlefields for the rift, however Sydney himself would explore the boundries of the rift and growing fascinated by its power journeyed in... and was removed from the cycle forever.
Sydney's main appearance is based on his Vagrant Story artwork. He wears nothing to cover his upper body, exposing the "Blood-Sin" tattoo on his back, and covers his lower half with a leather cape. During EX Mode Sydney's Blood Sin Mark Glows and he is surrounded by a gaseous red aura.
His alternate attire 'Demon's Cape' colours Sydney's cape black and his prosthetics a dark shade of grey This colouration reflects the ingame colouration of Sydney.
His 3rd Attire, 'Hooded Cape' dresses Sydney in one of his followers' robes with the hood up.
His Manikin 'Ensorcelled Vagrant' is light brown (beige/tan)
As an Imitator Sydney strategically uses the attacks of his opponent to fight the opponent (if fighting himself a random skill set is chosen for both). This means that he uses the same tactics against his opponent, therefore making him predictable and requiring the player to know the opponent's skill set, additionally, except for EX Mode reliant characters like Gabranth, Paine and Adelle, Sydney cannot use the EX Mode attacks of the opponent like Black Fang or Time Crush. However, to balance these disadvantages, his stats are all relatively high which allows him to fight without the stat disadvantages of his opponent, thereby allowing a slight upper hand.
Innate Abilities
| | | |
| --- | --- | --- |
| Name | Type | Description |
| Soul Mirror | Ability | Sydney's moveset will match the opponent's movesets equivilent to designated slots, randomly assigns a character set if facing another Sydney or Ensorcelled Vagrant. |
Brave Attacks
| | | |
| --- | --- | --- |
| Name | Type | Description |
| Brave Slot G1 | Aerial | Copies the opponent's first Brave Ground slot |
| Brave Slot G2 | Aerial | Copies the opponent's second Brave Ground slot, if nothing was assigned then a random move is assigned |
| Brave Slot G3 | Aerial | Copies the opponent's third Brave Ground slot, if nothing was assigned then a random move is assigned |
| Brave Slot A1 | Aerial | Copies the opponent's first Brave Aerial slot |
| Brave Slot A2 | Aerial | Copies the opponent's second Brave Aerial slot, if nothing was assigned then a random move is assigned |
| Brave Slot A3 | Aerial | Copies the opponent's third Brave Aerial slot, if nothing was assigned then a random move is assigned |
HP Attacks
| | | |
| --- | --- | --- |
| Name | Type | Description |
| HP Slot G1 | Aerial | Copies the opponent's first HP Ground slot |
| HP Slot G2 | Aerial | Copies the opponent's second HP Ground slot, if nothing was assigned then a random move is assigned |
| HP Slot G3 | Aerial | Copies the opponent's third HP Ground slot, if nothing was assigned then a random move is assigned |
| HP Slot A1 | Aerial | Copies the opponent's first HP Aerial slot |
| HP Slot A2 | Aerial | Copies the opponent's second HP Aerial slot, if nothing was assigned then a random move is assigned |
| HP Slot A3 | Aerial | Copies the opponent's third HP Aerial slot, if nothing was assigned then a random move is assigned |
EX Mode - Dark Impersonation
| | | |
| --- | --- | --- |
| Name | Type | Description |
| Regen | EX Ability | Recovers HP over time during EX Mode. |
| Glide | EX Ability | Glides through the Air by holding X |
| Power Simulation | EX Ability | Copies any benefits the opponent would have in EX Mode |
| Blood Sin's Darkness | EX Burst | Sydney charges himself with the Dark, as he charges, a sequence of four buttons appears, when he finishes charging enter the sequence. If correctly entered Sydney will release the Dark in a powerful stream. If incorrect he will Slash his opponent with a Dark enhanced blade. |
Equipment
Edit
Sydney can equip all Weapons except Guns and Bows, Gauntlets, Parrying Weapons, Helms, Hats, Heavy Armour and Robes
Exclusive Weapons
Edit
Name
Level
Stats
Effects
Obtained
Rood Sword
30
ATK +39
Attack Speed +10%.
Trade: 61,000 gil, Longsword, Scarletite x1, Vagrant's Desire x5
Czarine
90
ATK +63
Attack Speed +20%
Trade: 158,000 gil, Rood Sword, Electrum x1, Vagrant's Dream x5
Unholy Win
100
ATK +68
Attack Speed +30%
Fragile Pride Effect
Trade: 182,800 gil, Czarine, Inverse Rood x1, Vagrant's Hopes x5