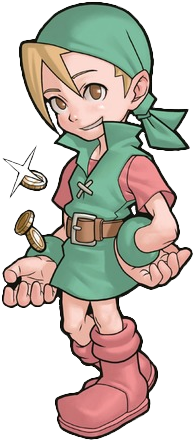 The Thief (of Light) is a Cosmos Warrior and one of the Warrior's companions from his world, even considered to be his best friend. but no one knows for sure related to this. It is unknown whether or not the Thief is female, but the alternate outfits clearly suggests it's male.
The Thief's default outfit is the one shown, wearing mostly green. The EX Mode appears to be the GBA variation of the Ninja.
The first alternate outfit 'Rouge Rogue' is a red recolor, with the EX Mode being the PSP Ninja.
His second alternate attire is his NES Sprite, wearing mostly brown, looks a bit elvish, and has blue hair.
His DLC outfit appears to be the NES FFIII Thief.
The Thief's Manikin, False Rogue is blue.
Innate Abilities
| | | |
| --- | --- | --- |
| Name | Type | Description |
| Luck | Ability | When an attack has a secondary effect, there will be a 30% chance of the secondary effect. When an attack has two effects, there will be a 15% chance of either of the effects. |
Brave Attacks
| | | |
| --- | --- | --- |
| Name | Type | Description |
| Throw | Ground | Throws a knife at the enemy. Randomly throws a Gradius, doing more damage. In EX Mode, randomly throws an axe to cause Wall Rush. |
| Dash Strike | Ground | Dashes with two knives on hand, attacking when close to the enemy. If the enemy does not get hit, can chain to Speed Strike. Randomly runs faster than usual or turns much easier. |
| Spinning Dodge | Ground | Dodges while spinning with knives on hand, attacking the enemy in close range. Randomly blocks projectiles. |
| Sneak Attack | Ground/ Aerial | Attacks the enemy and reappears behind the enemy to attack again. May randomly attack again, causing Chase. In EX Mode, randomly cause an HP attack. |
| 8 Hits! | Ground/ Aerial | Attacks the enemy eight times. The Ground version chains to Double Strike. Aerial chains to 16 Hits! |
| Thunder | Ground/ Aerial | Does a weak lightning strike. In EX Mode, randomly casts Slow during the strike, slowing the enemy down after the enemy is hit. |
| Air Dash Strike | Aerial | See as Dash Strike, but with Air Dashing. |
HP Attacks
| | | |
| --- | --- | --- |
| Name | Type | Description |
| Double Strike | Ground | Dual wields and attacks multiple times. Randomly wields dual swords. In EX Mode, randomly dual wields Sasuke's Blades. |
| Fire | Ground/ Aerial | Does a weak Fire spell. In EX Mode, the spell is homing and casts Hold, which immobilizes the enemy if the resulting EX Burst does not finish off the enemy or if the user chooses not to activate EX Burst. |
| Speed Strike | Ground/ Aerial | Teleports to the enemy and strikes twice. |
| Flip Strike | Aerial | Short ranged aerial summersault, attacking with a knife. Randomly wields a saber to increase the range of he attack. |
| 16 Hits! | Aerial | Wields a kotetsu and hits sixteen times. Randomly wields a Rune Blade. In EX Mode, randomly wields Cat Claws and hits sixteen more times. |
Brave to HP Attacks
| | | |
| --- | --- | --- |
| Name | Type | Description |
| Double Strike | Ground | (Chained from 8 Hits!) Dual wields and attacks multiple times. Randomly wields dual swords. In EX Mode, randomly dual wields Sasuke's Blades. |
| Speed Strike | Ground/ Aerial | (Chained from Dash Strike and Air Dash Strike) Teleports to the enemy and strikes twice. |
| 16 Hits! | Aerial | (Chained from 8 Hits!) Wields a kotetsu and hits sixteen times. Randomly wields a Rune Blade. In EX Mode, randomly wields Cat Claws and hits sixteen more times. |
EX Mode - Class Change
| | | |
| --- | --- | --- |
| Name | Type | Description |
| Regen | EX Ability | Recovers HP over time during EX Mode. |
| Critical Boost | EX Ability | Doubles Critical Hit Rate while in EX Mode. |
| Haste | EX Ability | Speed doubles while in EX Mode. |
| Super Luck | EX Ability | In EX Mode, the chances of the secondary effects increase 300%. |
| 64 Hits! | EX Burst | Mash the CIRCLE button as many times within 5 seconds with dual Murasames. The more times the button is pressed, the powerful the final strike with the Masamune is. Randomly uses Ultima Weapon instead, increasing damage further. |
Equipment
Edit
Thief can equip Swords, Daggers, Axes, Staves, Thrown, Grapplings, Guns, Poles, Bangles, Gauntlets, Hats, Headbands, Clothing, and Light Armor
Exclusive Weapons
Edit
Name
Level
Stats
Effects
Obtained
Spade Knife
30
ATK+38
DEF+2

Running Speed +20%
Trade: 61,000 gil, Dagger, Scarletite x1, Rouge's Desire x5
Thief Dirk
90
ATK+61
DEF+2

Running Speed +40%
Trade: 158,000 gil, Spade Knife, Electrum x1, Rouge's Dream x5
Lucky Dagger
100
ATK+66
DEF+1

Running Speed +50%
Counterattack effect
Trade: 182,800 gil, Thief Dirk, Four-Leaf Clover x1, Rouge's Hopes x5